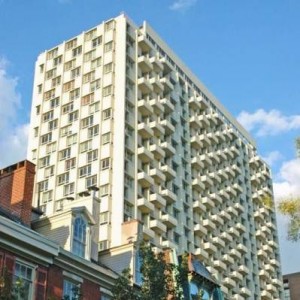 My good friend Tom who introduced me to Center City in 1987 told me that the "Hop House" was known as one of the best values in downtown condo living. Ask anyone today and I think they will repeat that assertion about The Hopkinson House. I call it "The Toyota Of Center City Values"….reliable, dependable, and an easy resale if you need to sell your condo at 604 S. Washington Square. Since that time we have sold probably close to a dozen units at Hop House- And I always find that demand outweighs supply- especially in the spring market when the med students come into town and want proximity to Jefferson Medical Hospital.
My brother and I used to own a unit in the building which we flipped…and I think the management is a strong attribute to the appeal of the building (many of the very friendly front door staff is still around after 20 years). Know that all the corner units in the building are two bedroom units (unless modified from the original plan by individual owners) and a portion of the two bedroom units are 1.5 baths- HOWEVER, those units can be modified and made into TWO full bath units.
All units face either North or South- And I honestly have never found there to be a preference in terms of resale ability, or demand. South units have great sun and the higher floors have killer river views. The North facing units at The Hopkinson House have great views of Washington Square park. The Heat and Central Air are supplied by the building and I believe is done so via a TWO PIPE system, which means the Hopkinson House dictates when the condo building as a whole switches from delivering heat to delivering central air. The condo building does not allow dogs- though they do allow cats. Rental parking is in the lower level, so no one owns parking at Hopkinson House. I have had parking in the building on a monthly basis for a few years as our office is very close- staff is very friendly and helpful. Management is tops in town and really couldn't be any nicer. A small but well-stocked food market is on the first level of the building and hailing a cab from here is never an issue. Oh, and there is one Kick-A** pool on the roof which rocks! 🙂
The condo association has recently upgraded their hallways (which is a huge visual improvement to the common areas), and has replaced all interior windows and sliding glass doors to individual condo units. What I find interesting is that 604 S. Washington Sq. has more Realtors who live in the building than any other condo building in town- And I think that speaks volumes. One other thing I know is that a TON of info about the building can be found publicly on their condo's website, which many folks find helpful. Know that I have a number of friends, colleagues, and past buyers who live in the building- So my current clients should contact me if they want additional insight into the "Hop House".