Trulia, Zillow, etc… Really?
 Perhaps you could just
 Rub A Magic Lamp
 to determine Center City Condo Values….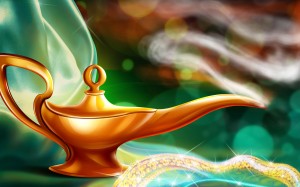 I think the methods used by many Online sites to show specific area condo values is just horse crap. You would have to be kinda' simple to believe that the emotional punch of a condo is not going to seriously affect it's value. Selling factors such as price, days-on-market and demand can be heavily influenced by a condos Showing Ability, Floor Height, and View. I know of no on-line real estate site that can take these factors into account …therefore possibly throwing off estimates of value for a Center City condo.  And you can't logically argue  that value is "generalized within a given zip code". That would be folly.Because if that were the case, then "1830"  and The DORCHESTER  values would be more in line with one another.   Throw the emotional punch or lack thereof into the mix and you have an exceedingly wide chasm of values and trying to generalize those values might prove daunting.
  And another example of how miscalcuations can also be achieved……
Over the past 3-5 years,many local publications have declared that the Center City zip code of 19102 has blossomed in terms of value growth.     Really?  I would suggest that the additions of The Ritz Carlton, the Aria, The Ellington, and The Grande have artificially bloated their calculations of area  values, average sale price, number of sales, etc moreso than true appreciation could ever have mustered.
Center City condo
,
Center City Real Estate
,
condos in Philadelphia
,
Philadelphia condo