When you're trying to make your space more alluring to potential buyers, it's all about presentation.
Most people know that. Before a showing, they make sure the place is picked up, cart out extraneous furniture and, take out the trash. But what about the lighting?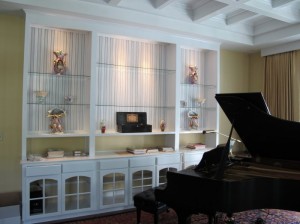 Lighting is the one thing that can give your condo a warm, inviting atmosphere. Follow the tips below, and you'll have buyers making offers:
-Use the sun to your advantage. Natural light is an incredibly attractive feature, so use what you've got. Trim any outdoor plants that are blocking that sun from streaming in, take down bulky window treatments, and move furniture away from the windows.
-Layers are key. The basics of lighting design involve incorporating at least three "layers" of light in each room. One layer is general lighting – you get that with ceiling fixtures. One is task lighting – that includes your floor/desk lamps and any focused lights such as under cabinet fixtures or desk lamps. One is accent lighting – that's what will really highlight your decor and bring in the majestic feel. One of the most popular forms of accent lighting is indirect cove lighting via LED light strips installed in a recessed portion of the ceiling.
-Be critical. When you're selling a condo (this especially applies if you've lived in it for years), you have to put yourself in a stranger's shoes. If you were seeing the place for the first time, what would you think of the light fixtures? It's easy to accumulate outdated light fixtures and forget to judge them with a discerning eye. Replace any tacky light fixtures with a more contemporary style.
-Go green. Sustainability is such a selling point for potential buyers. They want to hear they won't get slapped with a huge power bill after move-in. They don't want to go to the trouble of replacing inefficient light bulbs you installed. If possible, replace light bulbs with low-energy models. You can add it on to the list of benefits you tout to the buyer.
Emily Widle
E-Commerce Marketing Specialist
Pegasus Lighting
P 724.846.5137 x 102
F 724.846.8833
www.PegasusLighting.com
"Unique Lighting Products for Your Special Needs"