…and floor height isn't the only factor affecting values within the same buildings.
Probably the most overlooked effect on value to high rise condominium is the view that any particular piece of Philadelphia Real Estate has to offer. And not all views are created equal. Let compare and contrast a few different scenarios. All are based on my opinion, as a fairly seasoned Realtor who specializes in condo sales I have learned a great deal about the effect on value that particular views may or may not have, and any given buyer's perception of how that view might affect their desire to purchase.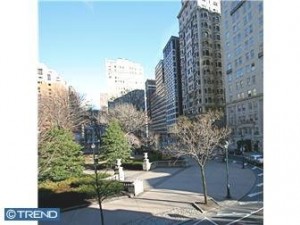 1) It is possible for a posh condo to nearly double in value if it has a highly coveted view. Think Central Park.
2) In some buildings, the highest values have been posted not only on the highest floors, but also on what we call "treetop" view. A very nice view of the treetops, say on the 5Th floor of a high rise condo can be very appealing to a number of buyers
3) A condo on a high Floor does not always warrant a higher sales price. IS there a benefit to looking directly into a neighboring high rise condo building- from the 27Th vs the 8Th floor?
4) I personally have found few buyers to discriminate between an East vs West view. However, a number of condo values are greatly affected by a North Vs South view.
5) Not all views from the 16Th floor of various buildings are the same. Think about ceiling height, and windows that run floor to ceiling. The building itself can manipulate either the view, or the feeling that the view offers, and this in turn will affect resale value and overall appeal.
At times, the need for a good view can be bypassed if a condominium has great light. There are many Rittenhouse Square condos that offer tremendous natural light, be it north or south, east or west, that don't necessarily have great visuals. I find a lot of buyers will fore-go a great view if the natural light is strong. Conversely, I find that a great view will not overcome the weakness of a dark condominium. I would suggest that natural light is a stronger motivator than a great view- at least in terms of resale ability.
So know that it has been my experience that view does indeed affect resale price and the time it may take to sell any given Philadelphia condominium. Though direct "park views" are the most desirable, there are compensating factors, and issues that can compensate for a lovely tree lined view of say, Washington Square. One needs to consider the window size, ceiling height, amount of natural light, and of course floor height. All factors should be considered when determining the resale ability of any given Philadelphia condo.
Mark Wade
www.CenterCityCondos.com
Berkshire Hathaway Home Services Fox and Roach Realtors
530 Walnut St. #260 Philadelphia, PA 19106
Center City condo
,
condominiums
,
condos in Philadelphia
,
condos philadelphia