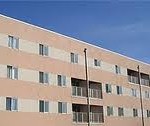 Philly Penthouse Condos: You call THAT a penthouse? Is that a true penthouse (left) or a Just a top floor condo (right)?
Almost any top floor condo in Center City Philadelphia will attempt to be passed off as a penthouse. But does a top floor condo always constitute penthouse living?
Often, penthouse condos will truly be a little home onto of a high rise building. Think
1901 Walnut St. (the Plaza), or the top floors of 250 S. 13th st. (The Lenox) or 1900 Rittenhouse
Square (1900).  These are true penthouse condos- with gracious outside space atop the building, and some really outstanding features- be it interior staircase (think bi-level) or say
a private elevator going directly to the top floor unit.
Too often, I see no redeeming value or quality to what are referred to as "Penthouse Condos" here in Center City. No excessive or heightened ceiling height, no over-sized windows, or even
any detailing that might somehow lend credence to the word penthouse- the unit simply happens to be on the top floor of the building.
True Penthouse condos tend to be large, with ornate detailing, or some other attribute that will separate the units look, feel and emotional impact from other units in the building. And they generally garner a higher dollar per square foot sale price.   However, a top floor unit may notalways warrant an inflated value if the unit possesses no true value or otherwise compensating factor.
Mark Wade
www.CenterCityCondos.com
267.237.3404