Easy quick steps to buying a Center City Condo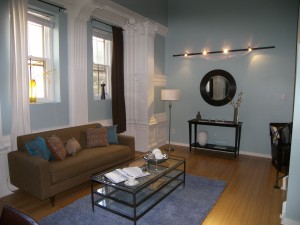 1.) Find a Philadelphia realtor (use google) drop them an email, and have a brief chat to describe your wants and needs. Make sure they are listed.
2.) Get in realtors car. Shop for condos in Philly. Find one you like after X number of tours/weeks/whatever.
3.) Revisit condo, bring in-laws, family, whomever. Ask lots of questions.
4.) Have realtor draw up offer. Sign. Have realtor submit to listing agent to give to seller.
5.) Negotiate…if successful, sign altered agreement of sale.
6.) Have your realtor help you schedule home inspection. Get mortgage application taken.
7.) Attend home inspection, send info to your mortgage company.
8.) Attend settlement, get keys, sign mortgage documents. You now own a Center City Condo. Congrats!

 
This is certainly a simplified version of events, but they pretty much encapsulate the process. It is fairly simple. Know that there are people in the state of Pennsylvania, who lack 6th grade educations, who indeed buy and sell real estate in our commonwealth. It is not brain surgery.
 
Here is a quick way to start the process:
 
Call me at 215.521.1523 or email me at Mark@CenterCity.com. We will chat..no obligation, and no pressure.
I am here to help you.
Mark Wade
www.CenterCityCondos.com
Prudential Fox and Roach REALTORS®
530 Walnut St., Suite 260 Philadelphia, PA 19106
19102
,
19103
,
19106
,
19107
,
19130
,
Center City condo
,
Center City Real Estate
,
condo fees
,
condominiums
,
condos
,
loft
,
penthouse
,
philadelphia
,
Philadelphia condo
,
Philadelphia condominiums
,
Philadelphia condos
,
philadelphia realtor
,
philly flat
,
real estate in philly
,
Real Estate: Condominiums