One thing buyers should be aware of when considering purchasing a Rittenhouse Square condo is whether or not they want to pay to actually live ON Rittenhouse Square. There is a huge difference between living on the Square, or living in the "Rittenhouse Square area".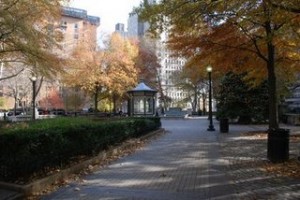 It should surprise no one that realtors can sometimes stretch the boundaries of specific neighborhood by adding suffixes such as:   – area, -vicinity, and –adjacent.  And realtors aren't the only ones guilty of such name dropping. Heck, for years here in town "Society Hill Furniture" was just off of Broad and Bainbridge Streets. Go figure. And there are even striking price differences between having a "Square View" and not being able to see Rittenhouse Square from your windows (for those high rises directly on the square).
So there are many interpretations of what constitutes a Rittenhouse Square Condo. It is my opinion that Center City "changes" block by block, with respect to housing/condo values, and what is most important is that you are buying or selling for what is appropriate for your little corner of "Rittenhouse Square".
I am here to help you navigate the world of Philadelphia Real Estate. I can be reached at 267.237.3404 or at Mark@CenterCity.com.  Thank you!
Mark Wade
www.CenterCityCondos.com
Prudential Fox and Roach REALTORS®
530 Walnut St., Suite 260 Philadelphia, PA 19106
19103
,
19103 condos
,
apartments for sale in philly
,
buy a condo
,
buy condo philadelphia
,
center city condos
,
center city realtor
,
condominium
,
condominiums
,
condos for sale
,
philadelphia
,
philadelphia realtor
,
philadephia condos
,
rittenhouse square
,
rittenhouse square apartments