…then explain the value difference between these two Philly condo buildings: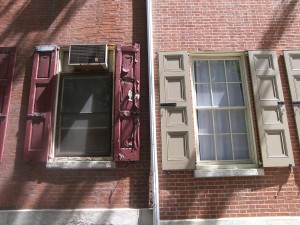 These are two actual side by side buildings on Spruce St. in Washington Square West.
So you have a big brain, and you think you are going to take a look at Trulia, Zillow, or one of the many fine real estate websites out there in CyberSpace, and you are going to come up with the true value of any given condo. Really?
You can't tell me that condition does not play into value. How about showing ability? You go into the public records and find a two bed, two bath in such n such zip code should sell for say $500,000. Really??? What was the condition of the Washington Square West Condo?  Was the building well maintained?
My point is, sometimes you need a realtor who knows his or her market to help you make valid decisions. There are many issues that affect value, that reading a webpage about any given Philadelphia condo may NOT tell you…
Mark Wade
www.CenterCityCondos.com
Prudential Fox and Roach REALTORS®
530 Walnut St., Suite 260 Philadelphia, PA 19106
Academy House Philadelphia
,
apartments for sale in philly
,
art museum area condos
,
Center City condominiums
,
center city condos
,
Hopkinson House Condominiums
,
Locust Point Condominiums
,
philadelphia loft
,
philadelphia realtor
,
philly real estate
,
queen village condos
,
Realtor in Philly
,
Rittenhouse Square Apartment for sale
,
Rittenhouse Square condominium