Check out this 1999 Article on Mark's Society Hill Rehab Featured in the Remodelers Show !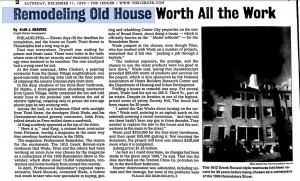 "It's More Than Just For Show Mark Wade, Who Buys, Guts And Rehabs Properties In Center City, Was Handpicked To Produce A Model Home For A National Show. Eventually, It Will Be Someone's $1.25 Million Residence.
Eleven days till the deadline for completion, and the house on South Third Street in Philadelphia had a long way to go.
Dust was everywhere. Drywall was waiting for primer and finish coats. There were holes in the walls where state-of-the-art security and electronic technology were destined to be installed. The rear courtyard had a crying need for sod.
At the front entrance, Mike Chobert, a painting contractor from the Queen Village neighborhood, was good-naturedly lecturing John Gall on the finer points of stripping the ancient Colonial-style front door.
In the deep shadows of the third-floor bathroom, Ed Mattio, a third-generation plumbing contractor from Queen Village, deftly connected the hot and cold water lines to the pedestal sink without the aid of electric lighting, stopping only to praise the new-age plastic pipe he was working with.
Across the hall, in a bedroom filled with sunlight from Third Street, the developer, Mark Wade, and his Germantown-based general contractor, John Fries, talked details as Fries wolfed down the sandwich he had brought for lunch."