Don't believe everything you read, or every comparable you see. NOT all condo space is created equal, and not all two bedrooms in the same building are of the same value.  Duh. There are soooo many factors that infuence value-
HOW DO YOU THEN CORRECTLY COMPARE APPLES TO APPLES?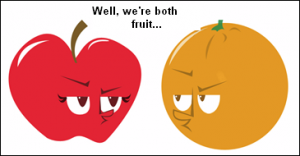 Here are some Tips:
1) Ask to see EVERY sale in the building in the past 2 years. Ask for the public records and MLS records.
2) Find a map of the building, and see which units face "The Park", and which overlook the DUMPSTERS – Positioning within a Center City condo building plays a role in value!
3) Inquire as to seller concessions that may have result in a higher recorded sales price for comps in newer buildings. And ask "did that unit include any extras like free parking?" Cuz if it did, it is going to distort the comps.
4) Floor height value- may or may not play a part in comps/ comp value. Newer Philadelphia condos are GREATLY based upon floor height.
5) Know that ALL pictures in the MLS look good- they don't show dirt, clutter, or a poor showing ability (generally speaking).
And know that "Fact Sheets" and MLS sheets are like Resumes- full of bullsh** and dog doo. Never take that info for granted- you must confirm!
6) AND THE BIGGEST factor to warp comps- Interior condition. Hugely huge in comp valuation.
Here is a good example of "Not All Space Being Created Equally"…
Equally sized two bed units at the Plaza can vary in price from $400k- $700k. Condition, and view have huge impacts on value and pricing.
So clearly comps can be deceiving – if you don't know…ask me. Please.
Center City condo
,
Center City Real Estate
,
Philadelphia condominiums