Personal circumstances such as your job, family and lifestyle preferences determine whether or not city life is a good fit but for many, the center of Philadelphia is the place to be.  The City of Brotherly Love, a big city with a small town feel, is known for its friendly residents and if you love the vibrant life in cities Philly condos have a lot to offer. Trees and parks offer a refreshing contrast to its museums and shopping centers. Philadelphia is, quite literally, the best of both worlds. Decide for yourself if it's right for you.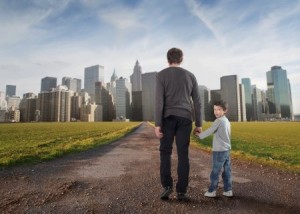 Less Reliance on Automobiles
Philly has a terrific public transportation system. It runs in a timely manner and can get you almost anywhere you want to go in the city or the surrounding areas. Commutes are quick and, if you prefer walking, almost anything is within reach. Shopping, entertainment and a wide variety of restaurants are within reasonable walking distance. In the suburbs, you will likely have to run a car, adding significant expense to your monthly budget and never mind the time spent commuting.
Wide-Ranging Culture
Philadelphia is known for its vibrant art scene. It's not uncommon to see used forklifts moving sculptures, paintings and other pieces of art into a building. Museums, the zoo, and popular sports teams also bring entertainment to the city. If you're a shopaholic, you'll enjoy a large variety of boutiques, larger department stores and small specialty shops.
Even better, Philadelphia is one of America's oldest cities and is full of historical significance. Its architecture is second to none. You can find a multitude of different cuisines; the city has many ethnic restaurants if you're up for new experiences. There are diverse neighborhoods and Center City condos with distinct cultural offerings, so you're never bored and without something to do.
Philadelphia is also home to some prestigious educational institutions, such as the University of Pennsylvania, which add to the vigor and excitement of one of America's favorite cities. All of this can be right outside your door.
Real Affordability
Compared to living in some cities like New York and Chicago, living in Philadelphia is quite affordable. Rent is cheaper and because public transportation is plentiful, saving on getting to and from work is easy. Cars require maintenance and upkeep; you don't have to worry about those costs if you live in the city center. Even purchasing a home is more affordable in Philly than it is in comparable cities in the United States.
If you're looking to move to Philly, don't just settle on the suburbs. Instead, think about everything the City of Brotherly Love has to offer you and your family.
Michelle is an aspiring writer with a passion for blogging. She enjoys writing about a vast variety of topics and loves that blogging gives her the opportunity to publicly voice her thoughts and share advice with an unlimited audience.
Center City condo
,
center city condos
,
Center City Real Estate
,
philadelphia