Generally accompanied by oversized windows and high ceilings, exposed brick walls lend an air of casual comfort to many Old City lofts, and other Center City abodes. But the treatment of those walls need not take on the same ol' look, time after time.
Some Opt to varnish, or apply polyurethane to the brick, thereby controlling the brick dust accumulation, and giving the brick a bit of a shine, not unlike shiny hardwood flooring.
Another option, which I strongly prefer, would be the Painted Exposed brick look. Though I can rarely convince others to paint their exposed brick, some of the coolest and most hip looks are achieved by taking a  colored paint to interior exposed brick finishes.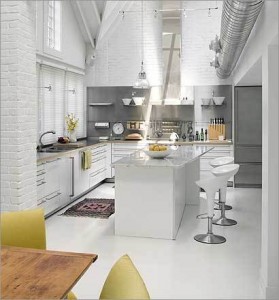 Of course, once you paint an exposed brick wall, you are kinda' stuck with the look, unless you go and have the walls sandblasted. Not a process I would wish upon my worst enemy! Messy, to say the least.
Looking for cool and hip? Let's take a look at some units together? Maybe a Fitler Square Condo? Give me a call at 215.521.1523 or email me at Mark@CenterCity.com.

Mark Wade
www.CenterCityCondos.com
Prudential Fox and Roach REALTORS®
530 Walnut St., Suite 260 Philadelphia, PA 19106
19102 condos
,
19103 condos
,
19106 condos
,
19107 condos
,
19130 cpndos
,
academy house condos
,
art museum area condos
,
high floor condo
,
high rises
,
hopkinson house condos
,
locust point condos for sale
,
philly real estate
,
realtor in philadelphia
,
rittenhouse square
,
views
,
washington square