Brownstone styled condos are an option in Center City that I find are becoming more popular for many Philadelphia condo shoppers. Known for their low condo fees, and some really groovy features, low rise condos have shown to have good resale over time, and often show up in some of the strongest residential locations in Center City.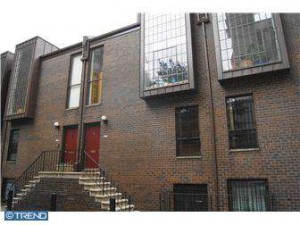 The condo associations tend to almost always favor pets, rules can be a bit more lax than a high rise, and many units have either decks, parking, fireplaces, or say an abundance of original detailing. Here are some of my favorite low rise/ Brownstone condo buildings in town- Due to either curb appeal, unit layout, value retention, or just an overwhelmingly serene locale:
1) Roberts Quay: 1035 Spruce – 18 units, a huge variety of layouts, and probably the most handsome building in 19107. Sits on the NE corner of 11th and Spruce.
2) 2100 Delancey: Again, huge curb appeal, an array of unit sizes and wrought with original detail. Many units have fireplaces, ornate windows, and of course a great location.
3) 251 S. 24th St: A very rare loft styled new Center City condo building in Filter Square that few have heard of/know of/have seen. Garage parking, huge windows, and sits in a quiet pocket of Filter Square. High end contemporary finishes throughout each unit.
4) The Clinton: Now here is a stunning building. Sits on the corner of 11th and Clinton St- serene as they come. Some units have parking, and many units have south facing windows- many completely shielded by huge trees. Modest condo fees and attractive pricing. 1023 Clinton St.
5) St. James Court: Hidden between 5th/6th Street, Locust and Walnut sits this enclave of "uppers and lowers". Rental parking next door at Indep. Place. Great space, quiet location, handsome exteriors, outside space for every unit, and two story living rooms. A great track record of resales / value retention over the past dozen years.
Mark Wade
CenterCityCondos.com
Center City condo
,
Center City Real Estate
,
condos in Philadelphia