You can check out anytime you like… but can you ever leave (sell) that condo ?
What is the Achilles heel to resale and value? Key fatal flaws in a condo may prove difficult to resell a condo.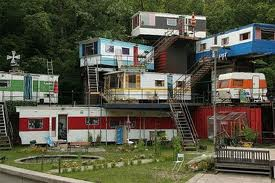 I asked around the Real Estate Community, and here is what most Realtors believe to be a tough sell:
1) A very expensive unit in a low rise building without an elevator – On a high floor.  Meaning $1M for a 5th floor walk up. Though some of the best deals in town can be found on the 3rd floors of many blgds.
2) A Three story tall cheap metal spiral staircase that screams "death" ?  Yeah, that isn't easy to overcome.
One flight of spirals in town is a great space saver. Three flights can be visually daunting.
3) Condo fees over over $1 per sq ft per month without a doorman, parking, pool, or even a gym. An inverse relationship can exist between condo fees and resale value. Add the burden of non- fanne mae warrant-ability, and you have on tough sale on your hands.
4) Buildings that just look like sh*t- from the exterior, to the lobby, elevators, and hallways. Where ongoing maintenance is clearly not a priortiy.
NOW….there is one possible upside to buying a condo in a building that may possess some of the above characteristics – And that would be price. An exceedingly well priced condo can be forgiven for its many attached sins.
Center City condo
,
Center City Real Estate
,
condos in Philadelphia
,
philadelphia