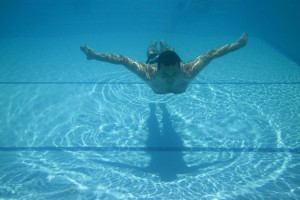 Like people in a swimming pool, some float, and some sink. The question is why.
Obvious factors are the showing ability and emotional impact that a particular condo unit does or does not possess: cleanliness, natural light, wall color, furniture, even the smell of a condo can add or subtract from the emotional beauty, and leads to a huge impact on a condos value. In my twenty years of selling real estate, I have never had a buyer tell me to find him the dirtiest, or the worst decorated condo available. Easily, as much a ten percent difference in value depending upon showing ability. And of course interior condition can also have a major impact on value. Beige bathtubs and appliances can crimp value fairly quickly in a lot of cases. 
In addition, the physical charactoristics of any given unit can help or hurt the units value (think- huge closets, a tax abatment, high ceilings,etc). Styles, like appliances and carpeting have a tendency to age, and that is usually accompanied by a slower rate of appreciation. Clearly, more recently rehabbed, say, Rittenhouse Square condos are going to retain their value better than a unit in a state of disrepair or decline in its finishes. Also prohibitive condominium association rules and policies can deter many buyers from specific buildings. A host of factors can cause units to sit on the market longer than normal, and almost always guaranteeing a lessened resale value.
Location is also a huge factor to the rate of either appreciation or depreciation. Stronger locations in town have a tendency to be a bit more elastic- they are the first neighborhoods to see a drop in inventory with any influx of buyers to the market. That's a good thing. Recall the principles of supply and demand. I would argue that a strong location is going to depreciate less -because IF in a weakened marketplace, the first condos to remain unsold are in the weaker locations. (The flip side is that you might be able to strike a significantly improved deal, should you be looking away from an "A" location.)
I am just brushing the surface here, but know that not all condos in town will appreciate or depreciate at the same rate. Or sell within the same given timeframe. The best tools you have to insure your value remains intact is twofold:
1) Buy it at the right price in the first place and/or
2) Keep your unit looking like it just jumped off the pages of Town and Country Magazine.
Easier said than done, I am aware!
Mark Wade
www.CenterCityCondos.com
Prudential Fox and Roach REALTORS®
530 Walnut St., Suite 260 Philadelphia, PA 19106
1901 Walnut St.
,
Hopkinson House Condominium
,
Rittenhouse Plaza
,
Society Hill Towers