If you are doing work around your Philadelphia home, why not donate your Used items to Impact Services of Philadelphia?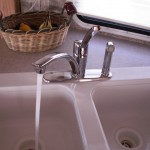 Here is why you should:
1) They will take used appliances, faucets, cabinetry, doors, sinks- even furniture -THEY TAKE THEM AWAY FOR FREE!
2) You are helping the community, as the donations you make will be sold quite inexpensively to those in need
3) You get a tax deduction
4) Did I mention that they will come into your Philadelphia condo or home and remove said fixtures?
So let's review. You save money from not having to dispose of a variety of items, free removal, tax deduction, and you are helping the city.
A few rules:
-All appliances must be in good working order, and a maximum of 10 years old
-All other fixtures must be in good working order/good condition
-They do not take mattresses
You can call Impact Services at 215.423.3613 Monday-Friday 8am-4:30pm. Their schedule is done on Mondays for the week. So schedule your pick up accordingly. And know that the staff is always very friendly!
Mark Wade
www.CenterCityCondos.com
Prudential Fox and Roach REALTORS®
530 Walnut St., Suite 260 Philadelphia, PA 19106
condos in Philly
,
Philadelphia appliance donation
,
Philadelphia condo
,
Philadelphia home