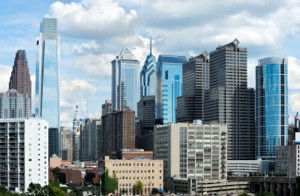 It is no secret that new developments in Center City are primarily priced according to not only the size of the Philly condo, but also the floor height. Sometimes asking prices are as much as $50,000 per floor. And to some degree, I get it. Higher floors usually always mean a better view, perhaps more prestige, whatever. Though not everyone wants to be on the top floor of any given building around town. Sometimes the lower floors give really nice tree or treetop views, which can be in demand as well.
     But what happens to that paid premium over time? Does that equation pan out in 50 years? Look no further than say the Hopkinson House, or Society Hill Towers for that answer.
Here is my Two Cents:
   Over time, floor height value has a tendency to erode. Sure, given the opportunity, a great many buyers would rather be on a higher floor for the views, but I do not believe that this is the guiding light of value. Over time, the value equation points more squarely on interior condition….and that is not a reflection of any given Center City Condo.
   A gorgeous unit on a low floor at the Hopkinson House can indeed garner a higher sale price than an average looking unit on a higher floor (Note- major caveats here….a low floor unit with zero view, overlooking the trash dumpster might cause a low floor to generate a low offer).  Now if two units are 100% identical in an older building, sure- we will likely see a premium paid for that higher floor….but I would suggest that the equation more hinges on interior condition as the driving force in resale value.
   So should you pay the premium for a higher floor? That is up to you. I am just sayin' that I do not think that higher floors necessarily garner a higher sale price as the years go by- I think the value is more reflective of interior condition. So maybe you don't see the return on the investment- but for many, the kick-ass views are well worth the initial investment.
   So in the end- the premium paid for a view is your call.  We recently bought on the 9th floor of a new highrise here in town- kinda' in the middle of the building overlooking treetops which we thought provided the view without to paying too much of a premium.
Center City condo
,
center city condo philadelphia
,
Center City Real Estate
,
condominiums philadelphia real estate